We will stop support rapid/gator.net filehost forever because they ban a our staff account.
All files were deleted rapidgator links will be replaced with "seekvn.com"

Wyll for Genesis 8 Male
Posted on Nov-16-2023 16:21 | by
BBlK
| 100 views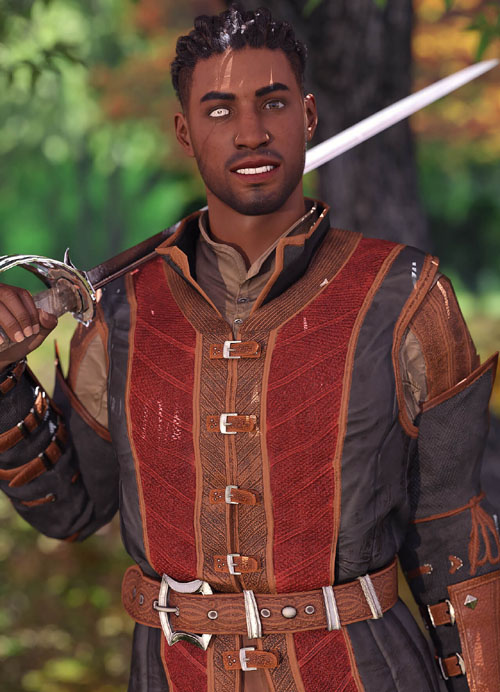 Wyll for Genesis 8 Male
Detail link:
https://www.renderhub.com/dumitas/wyll-for-genesis-8-male
Wyll for Genesis 8 Male
"You can t compromise with evil, it always profits in the end"
(Send me a private message for discount)
Wyll from the game Baldur's Gate 3 for Genesis 8 and 8.1 Male.
Character:
- Wyll for Genesis 8 and 8.1 as separated scene subscene
(Equipped with Padded outfit, Skin, Hair, Sending Stone, and Rapier)
- Wyll Body and Head Morphs apply and remove preset (Morphs: DUM Wyll Head / DUM Wyll Body)
- Demon Details (Morphs to add the demon effect, apply together with the Demon Skin Effects) (Morph: DUM Wyll Demon)
- Sending Stone (Wyll right Eye) It will hide the right eye automatically, it follow the right eye poses automatically like the regular eye, doesn't need adjustment.
- Wyll Demon Horns (Apply together with demon morph and skin effects)
Hair:
- Wyll Eyebrows (Will apply over the skin eyebrows to enhance the quality of it - Optional)
- Wyll Hair
- Wyll Stubble (Will apply over the skin Stubble to enhance the quality of it - Optional)
Materials:
- Wyll Skin
- Demon Effect (Apply after the skin and in combination with the Demon morph)
Outfits:
Padded Outfit: (Padded Outfit Preset)
- Padded Top
The Padded top comes Dforce ready (Lower half), pose your character then apply simulation using "Start Bones From Memorized Pose: ON"
- Padded Pants
The pants have "CampPantsLower" Surface hidden to fix the clipping with the boots, set that surface "opacity" to 100 if you're going to use without the boots.
- Padded Boots
Camp Outfit: (Camp Outfit Preset)
- Camp Top
- Camp Wristband
- Camp Pants
- Camp Shoes
Weapon:
- Wyll Rapier (Will automatically equip it in the right hand and pose to hold it)
INFERNAL UPDATE (10/24/23):
Added Infernal Robe Outfit, it requires Mizora (Updated)
- Infernal Robe
+ The Skirt is Dforce ready, recommended "Start Bones From Memorized Pose: ON" (Preview example in promos)
+ Neck Morph to reduce the size of it (Adjust Neck)
- Infernal Pants
- Infernal Boots
Everything comes with 4K high quality textures to enhance your renders.
Install directory:
People/Genesis 8 Male/Characters/Dumitas/BG3/Wyll
The file comes ready to install using Install Manager to make it easy to uninstall or change location, you can also install it manually using free tools such as 7-Zip. (Install Manager Guide : daz-how-to-use-install-manager-dim )
If you notice any errors or have any suggestions, feel free to send me a direct message. I'm always available to respond and will do my best to address any issues. Thank you for your input!
Warning! You are not allowed to view this text.
Related News
Add Comment
Information

Users of Guests are not allowed to comment this publication.