We will stop support rapid/gator.net filehost forever because they ban a our staff account.
All files were deleted rapidgator links will be replaced with "seekvn.com"

Gemma and Gemma Hair for Genesis 8 Female
Posted on Sep-18-2023 02:02 | by
BBlK
| 173 views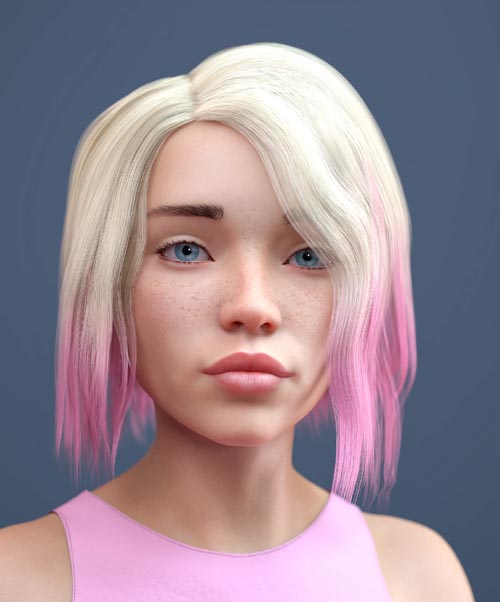 Gemma and Gemma Hair for Genesis 8 Female
Detail link:
https://www.renderhub.com/dumitas/gemma-and-gemma-hair-for-genesis-8-female
Gemma and Gemma Hair for Genesis 8 Female
Gemma is a new original character for Genesis 8 and 8.1 Female!
This product contain:
Character:
- Gemma for Genesis 8 and 8.1 female as separated scene subsets. (With Hair and Eyebrows)
- Gemma Body and Head Morphs Apply and Remove preset (DUM Gemma Body / DUM Gemma Head)
Gemma is shorter than Genesis 8 default character and has a smaller head, it may need adjustment to use in combination with other characters.
Hair:
- Gemma Hair with 10 different colors.
- Gemma Hair Highlights 10 different colors (Apply after main color)
- Gemma Eyebrows with 4 different colors.
The hair has 6 morphs, separated on Right/Left and Back, for movement and length.
It doesn't contain bones but there is a bone that you can hide on the scene tab called "Hide Bangs" to hide the hair covering her left eye.
Materials:
- Apply Skin
- 3 Eye colors options
Lipstick:
-10 Lipstick colors.
Makeup:
-10 Makeup Options.
Fingernails
- 10 Fingernails colors.
Everything comes with 4K high quality textures to enhance your renders, many of the options are used on the promo images, except for the clothing or environment, everything you see on the character is possible with her, no other morphs were added and only her hair was used for the renders.
Install directory:
People/Genesis 8 Female/Characters/Dumitas/Gemma
The file comes ready to install using Install Manager to make it easy to uninstall or change location, you can also install in manually using free tools such as 7-Zip. (Install Manager Guide : daz-how-to-use-install-manager-dim )
If you notice any errors or have any suggestions, feel free to send me a direct message. I'm always available to respond and will do my best to address any issues. Thank you for your input!
Warning! You are not allowed to view this text.
Related News
Add Comment
Information

Users of Guests are not allowed to comment this publication.