Notice: We won't support Europeup anymore. Don't buy this host premium
Gumroad - MA Brushes - Realistic PHOTOSHOP Oil & Acrylic Brushes
Posted on Apr-25-2019 09:50 | by
cod2war
| 1 151 views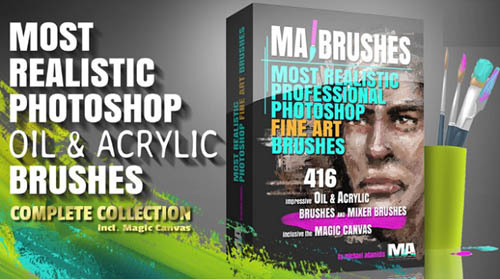 Gumroad – MA Brushes – Realistic PHOTOSHOP Oil & Acrylic Brushes
Info:
The powerful MA-Brushes for Photoshop have been created to bring the experience and joy of traditional canvas painting to your computer screen to help you making your digital painting technique more efficient, authentic, realistic and natural!
Photoshop Brushes made for professional digital Paintings like Concept Art and Charakter/Environmental Design and also Portraits, Landscapes and abstract Paintings.
This Photoshop Brush Pack contains:
Portrait Fine Art Brushes, round Brushes, flat Brushes, Filbert Brushes, Fan Brushes, Impasto brushes, scratchy Brushes, Canvas texture Brushes, Oil Brushes (Mixer Brushes), Palette Knives, diffuse Brushes (Clouds), Frost Texture Brushes (Oil Effect), Brushes for Grass, Brushes for Trees (also Evergreens), Brushes for Leaves, Rocks….
Extra BONUS:
Along with the MA-Brushes you will get the Magic Canvas, which is a Photoshop file that includes 26 very special Fine Art Canvas Textures that also harmonize with the Brushes! This file has a 5000*3299 resolution so it is constructed for large paintings and prints.
Related News
Add Comment
Information

Users of Guests are not allowed to comment this publication.