We will stop support rapid/gator.net filehost forever because they ban a our staff account.
All files were deleted rapidgator links will be replaced with "seekvn.com"

Symbiote Texturesuit and Props for G8F
Posted on Nov-17-2023 12:01 | by
BBlK
| 98 views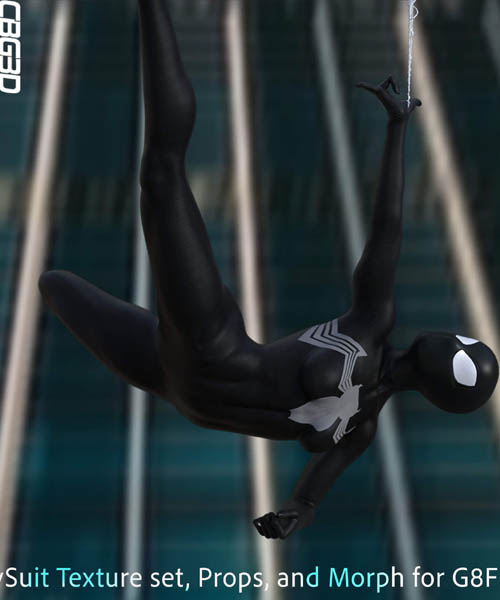 Symbiote Texturesuit and Props for G8F
Detail link:
https://www.renderhub.com/cbg-3d/symbiote-bodysuit-for-g8f
Symbiote Texturesuit and Props for G8F
DAZ Content Update - Symbiote Bodysuit Textureset for G8F NOW with the "Anim-8 ME" Spider Mask and NEW foot cover "Slipper" Props!
File Update - 8/04/2023
Update Notes:
Cleaned up file paths for easier organization.
Adjusted custom Bodysuit Morph to 45 percent "ON" as a shaping preset, providing a more versatile fit.
Reworked all texture images to ensure a smoother seam crossover, enhancing visual quality.
Corrected "Ear Visibility" presets to affect only the numerical value of the "Cutout" Slider.
UPDATE/NEW CONTENT and/or Features:
Introducing the Official "Anim-8 ME" Spider Mask with a custom Emotion Morph slider system, bringing dynamic expressions to your renders.
Added Geoshell-like "Slipper" props to cover exposed toes for perfect final renders.
PLEASE NOTE:
To maintain smoothness and collisions, the new shoe and mask props have been optimized as close to the base model as possible. However, at certain camera angles, there may be a faint line between the props and the base model. To quickly address this, use a smudge tool in Photoshop or a similar program. Set it to about 20 to 25 percent in strength with a hardness no higher than 15 percent for fast post-render clean-up. While it doesn't look terrible with the line, we understand some users may prefer to correct it for optimal results. Rest assured, all posted promo renders have undergone this cleanup process to deliver the best quality.
Disclaimer: This is not your typical outfit; it's a Texture suit and Props. There is NO OUTFIT portion between the Props, only custom painted textures applied directly onto the G8F base UV set.
"NEW" Product Details
File Name:
CBG3D09544354-01_SymboiteBodysuitforG8FV2.zip
File Size:
82.6MB
File Path:
People\Genesis 8 Female\Clothing\CBG3D\BodySuit_G8F/Symboite_BodySuit
File Contents:
Presets (.DUF)
Default_G8F_Subset.duf
Wearables (.DUF)
4_Apply_Props.duf
Symboite_Mask.duf
Symbotie_Shoes.duf
Materials Iray (.DUF)
3_Apply_FinalMaterials.duf
Apply_Mask_Symboite_Mats.duf
Apply_Shoes_Symboite_Mats.duf
HIDE_Ears.duf
RESTORE_Ears.duf
22 Texturemaps
(.png) for Base Color, Bump, Displacement, Emissive, Height, Glossiness, Normal, Reflection, Roughness, Specular, Transparency (347 x 83 to 4096 x 4096)
-----------------------------------------------------------------------------------------------------------------
Original Description:
Get ready for the ultimate superhero experience with the all-new Symboite Bodysuit for Genesis 8 Female! This Texturesuit brings a fresh and exciting look to your favorite characters, featuring a complete retexture of the arms, legs, and torso. Choose between the standard Genesis 8 Female texture set or the LiE-based version, which lets you keep your character's facial textures while still rocking the Bodysuit.
With two visibility presets to hide/show the ears and a custom re-shape morph for Genesis 8, you can achieve a more realistic "In Clothing" appearance with smoother bends and glutes. No more worrying about poke-through issues during your posing and animations we've got you covered!
Thank you for checking out this amazing creation! Come back soon for more epic superhero content.
PS: Don't worry about the misspelling of "Symbiote"; it's all about creating the perfect heroic vibe!
Warning! You are not allowed to view this text.
Related News
Add Comment
Information

Users of Guests are not allowed to comment this publication.