We will stop support rapid/gator.net filehost forever because they ban a our staff account.
All files were deleted rapidgator links will be replaced with "seekvn.com"

Property Manager
Posted on Nov-20-2023 18:32 | by
BBlK
| 158 views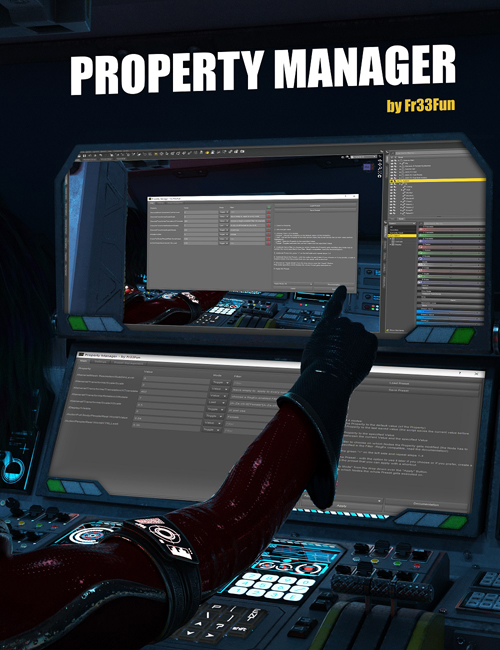 Property Manager
Detail link:
https://www.daz3d.com/property-manager
Regain control over your properties and both increase your productivity and speed with the new Property Manager!
With this program you can modify most of the scene's properties (see "Limitations" below) in bulk.
Simply specify a "config" which contains: a property, a value, choose one of four modes and optionally set a filter which specifies on what nodes this config will be applied to (the label of the node has to match the filter).
You can add as many Configs as you want and save them as a "Preset," which of course you can load later, or you create a custom action out of the preset file (with or without a shortcut) which will apply the Preset to the whole scene as specified!
The four modes are:
"Default" - Resets the Property to the default value.
"Last" - Sets the Property to the Last saved value (the program saves the value before changing it).
"Value" - Sets the Property to the specified value.
"Toggle" -Toggles between the current value of the property and the specified value.
You can choose an "Apply Mode" which specified on which nodes the whole preset will be applied on (All, only selected etc.).
The program respects the limits of the property on a node-to-node basis and can be "undone" with DAZ Studio's 'undo' feature.
Also, if the program can't find a property on any node it will just skip it - so it's safe to load complex presets that specify configs for properties that don't exist in the scene.
Manage your properties and get control back with Property Manager!
Warning! You are not allowed to view this text.
Related News
Add Comment
Information

Users of Guests are not allowed to comment this publication.